After receiving quite a few comments and emails over the past few months asking me about my minimalistic habits I've decided to start a new series called 'My Minimalist…' which details particular minimalist aspects of my life, such as what does my room look like? What do I like to eat? What's in my wardrobe? Of course I love you guys so much I'm more than happy to share what's lurking in my cupboard. (As far as I know, there aren't any skeletons!)
Let's begin with my wardrobe. The key to building a minimalist wardrobe is versatility. Almost everything I own can be worn either everyday, or mixed and matched on different occasions to make dozens of combinations of outfits. That way, I reduce the amount of clothes I actually own. Overall, I own about fifty pieces of clothing, including everyday outfits, 'going out' outfits, sports gear, shoes, socks, underwear, accessories, coats, scarves and pj's. It sounds like a lot, but most of it is counting the little things, like a pair of socks here and there. A quick snapshot of my cupboard shows that about this number can comfortably fit into a small-normal sized wardrobe: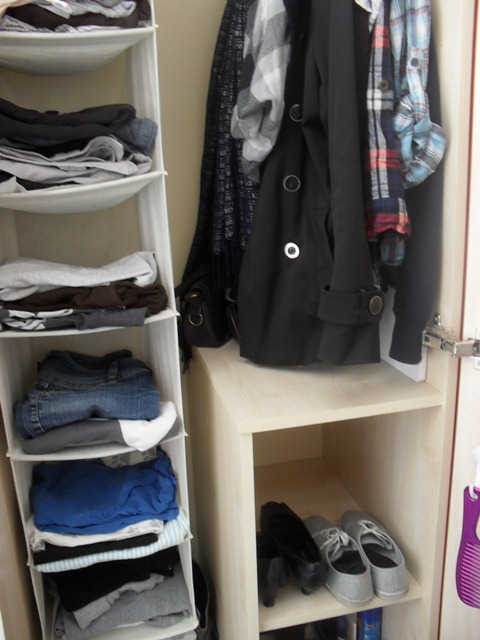 I've seen wardrobes that are practically spilling with clothes. Actually, in some, you can even see corners of clothes hang out forlornly over the shelf edge, constantly being squashed because it's stopping the door from fulling closing.
As for shoes, I'm lucky enough to live in a country with fairly mild weather, so I can get away with wearing fairly light shoes that don't need replacing that often if I take care of them. I love wearing my brown boots, but they're impractical for cycling so I usually go for the casual plimpsole/trainer. I own a pair of plain black heels that go with literally any outfit and have served me well for almost two years now for going out at night (both pictured above).
All of my socks and underwear are plain and mostly black. All of my clothes are easy to wash or can be hand-washed, and tumble dried and don't need ironing. They also dry very quickly, which is good because it means I can 'turn over' clothes efficiently, ie. I don't have to wait for long for clothes to dry on a rack before being able to wear them again. I can usually wash something in the sink and hang it up overnight and wear it in the morning.
Over Easter, I lived a month out of a single suitcase because I only took a few pieces of clothing but I styled them by mixing and matching. For example, here is one dark grey top dressed in three different ways: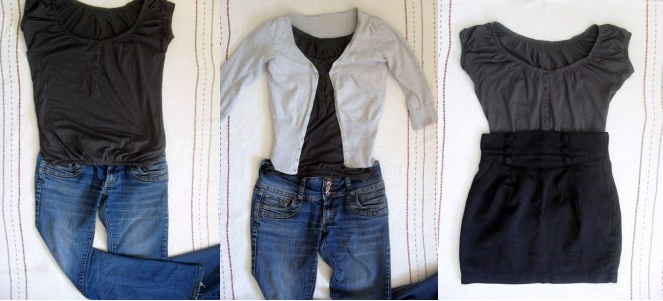 Here is another top I love, as you can see, not everything has to be just one plain colour if you dress it up! Here it is pictured with the above jeans and black skirt and a  pair of shorts. These three outfits are perfect for casualwear, eveningwear and summerwear!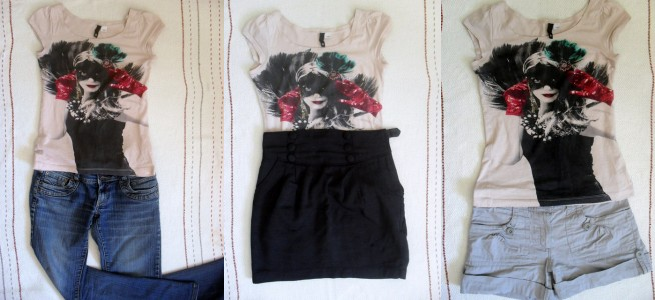 The number of combinations you can do rises exponentially even if you only add a few more items and match them well. I actually took a few more pictures with more or less the same tops and bottoms but you get the idea! I don't want to bore you with a fashion lecture 🙂
So you see, it's all about choosing the right things before you buy. Here a quick summary for future reference:
Check the label to see if it can be handwashed and/or tumbled dried etc. depending on how much time you can spend cleaning. Obviously never buy anything that needs dry cleaning (including dresses – there's so many nice alternatives out there that don't cost half the retail price just to clean!)
Think about the rest of your wardrobe and how many pieces you can match it with. Try not to buy anything that has 'occasion restrictions' such as 'really-hot-days-only' or 'posh-occasion-only'.
And finally, if you buy this new piece of clothing, what can you throw out/donate in it's place?