Hello everyone from Japan! This is the first post of many I'll be writing from the Country of Awesome. I just wanted to let everyone know that I arrived safely and I'm having an amazing time. I was a little afraid before that the extent of Japanese hospitality was a big fat lie, but so far it proves to be absolutely true. I've never felt more welcome and happy, something I desperately needed being so far away from home.
Also, I wanted to thank everyone for their well wishes from the last week's minimalist suitcase packing post, I read them at the airports in Rome and in Kansai, which was really encouraging. I also want to thank those who donated, I will be forever grateful for your kindness and support.
So, without further ado, I would love to introduce to you my new bedroom…my new minimalistbedroom that is!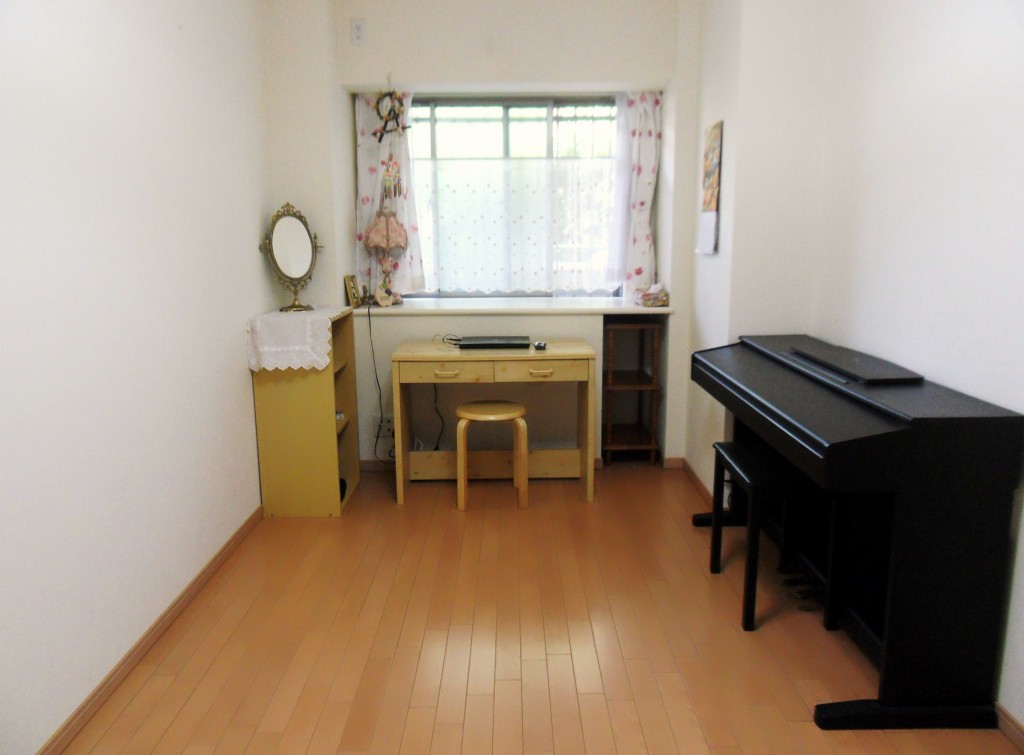 I had no idea what my room would be like before I came here but as soon as I arrived at the house and saw it I was ecstatic! It has wooden floors, wooden furniture and white walls. Compared to my old room, this one is much bigger, and yet I have less stuff to fill it with – perfect!
My room also comes with a beautiful black Yamaha piano – which had me smiling all day. I love to play, but at college I obviously couldn't bring my piano, even though it was more like a posh keyboard anyway. For the first time, I have a really good chance to get back to something I started years ago and has stayed in my heart ever since.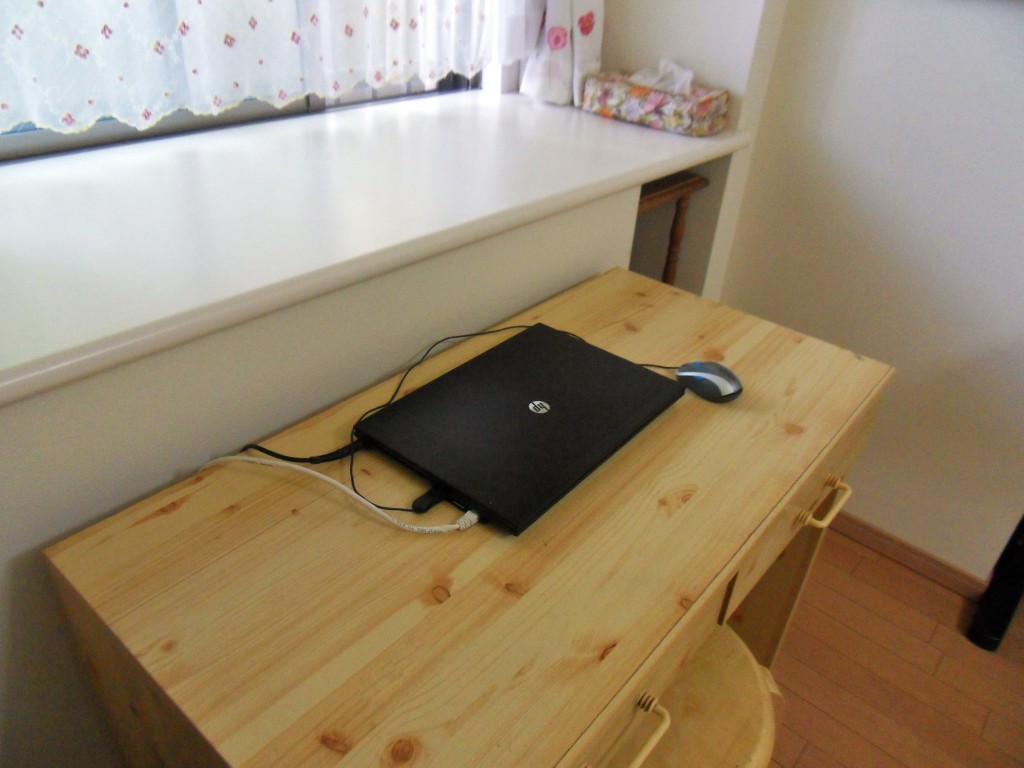 Next up is my new desk, I absolutely love the simplicity of it. It's sturdy and wooden, with two drawers. That's it, no extra frills. It does it's job as my new workstation perfectly. I also love that the chair is just a stool. I've been meaning to get a chair without a back because constantly leaning on one weakens the spine. One of the reasons why people find meditation so difficult is that they can't sit upright for more than a few minutes before gradually slumping down – they're too used to being supported by a chair. Also, because of the stool, I'm less likely to waste precious hours in Japan surfing the web.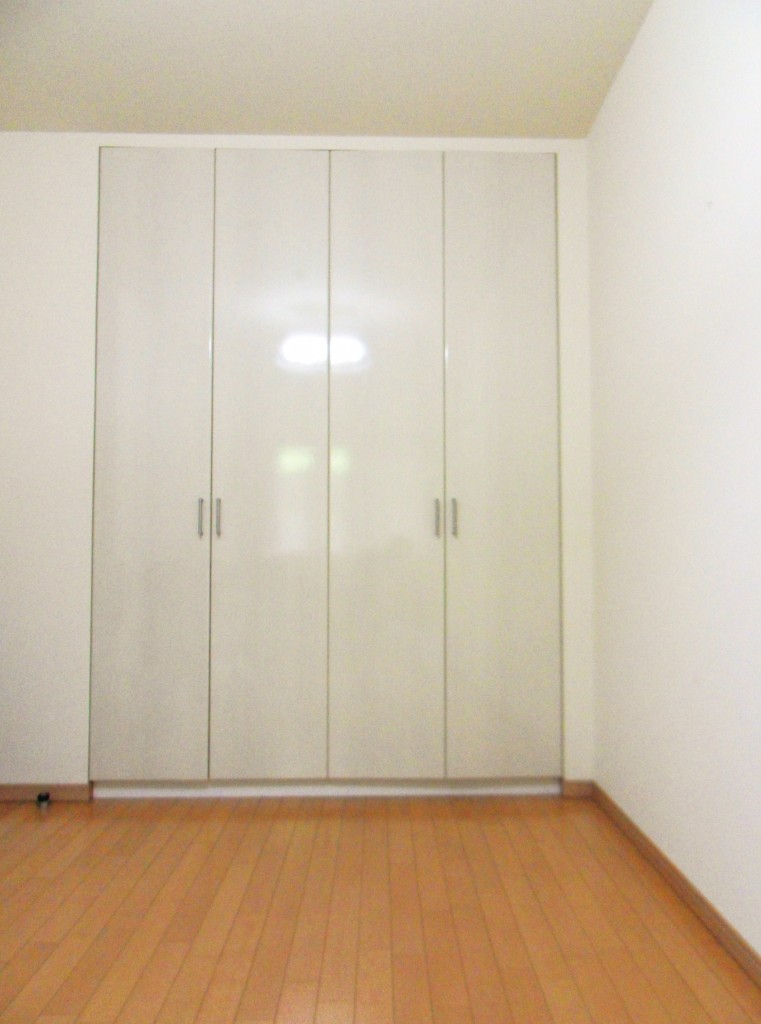 There are two wardrobes in my room. However, the one on the left that you can see here is already being used for storage. Also, the top two shelves of the right wardobe is taken up by my host family's holiday suitcases. And, one more thing, the bottom of the right one is being used for storing the futon (see below). If you do the mapping, you'll work out that all I have is the middle of the right wardobe. But don't worry, it's not as bad as it sounds!
These wardrobes are pretty deep and I could more than comfortably fit in all of my clothes with plenty of room to spare. The limited space fits me just fine, since it would discourage me to buy too many clothes which I can't take back home with me anyway. As with most things, even though it's small, there's still much more space than in my old room!
And finally, there's the futon. Oh. My. Goodness. I love it! I had heard that more and more Japanese homes are ditching the futon for framed beds so I couldn't tell you happy I was to walk into a room without one! They're so amazing I have no idea why I didn't have one before.
For those that don't know, a Japanese futon consists of a thick fold-able mattress, a sheet to cover it with, a duvet and a pillow. Every night, you would unfold the mattress, lay the sheet and pillow over it, flip open the duvet and sleep! In the morning, you would fold it away into a cupboard and you would regain the entire space of a bed in your room. If it sounds laborious, I've timed myself doing it and it takes less than a minute to do. Because of the futon, I finally have enough space to do yoga right here in my bedroom. I can also roll out the rug my host family gave me onto the floor and read, surf, play with the my the kids and study right here.
I can't believe my luck, I'm still so excited (hence the overuse of '!'s, sorry about that) even though I think I've already phased out of the honeymoon period. Everything has worked out so perfectly with my room and my family, I couldn't ask for anything more.
Now, I'm looking forward to checking things off my list of 101 things to do in Japan. Here's hoping I have a great year and it's all uphill from here!
Related Posts